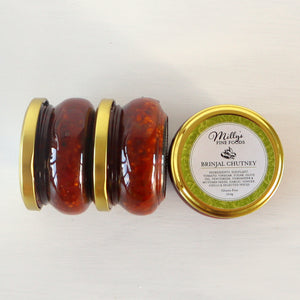 The perfect partner for cheese and crackers.  Baste leg of lamb before slow roasting. On sandwiches, with your favourite pie.  Add to soups, stews and casseroles for a flavour boost. 

Ingredients: Eggplant, Fresh Tomato, Brown Sugar, Tamarind, White Vinegar, Fenugreek & Selected Spices. 120g jar
Gluten free.
Proudly made by Milly's Fine Foods, located in the beautiful Bay of Plenty.