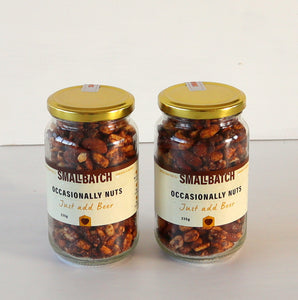 Occasionally Nuts - Just add beer is a scumptious blend of nuts, made right here in Tauranga. 
Just a little spicy. Almonds, Cashews and Peanuts with a delicious coating and roasted to perfection. Watching rugby or catching up for Friday beersies? Just Add Beer is the right mix for you.
Small Batch is an artisan food company based in Mount Maunganui. Small Batch was started in 2012 by the talented foodie family Nick and Elaine Delaney. As a fellow chef with similar passions Nick Parker became friends with Nick D and in 2020 took over the company and set up a new kitchen to operate from.