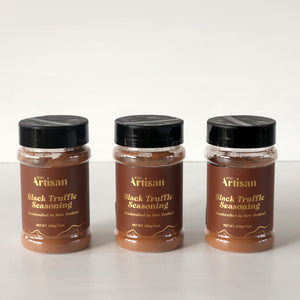 A delicious blend of real black truffle and natural spices this seasoning is truly addictive!  The perfect seasoning for truffle lovers simply need truffle on everything. 
How To Use: Mash it into baked sweet potatoes or a favourite potato salad recipe. Use as a finisher for a rich, creamy pasta or macaroni-and-cheese. Enhance your breakfast with a dash in your scramble or dusted over your eggs benedict, with a thick side of creamy avocado!
The Kiwi Artisan Co is proudly located in Mount Maunganui NZ.