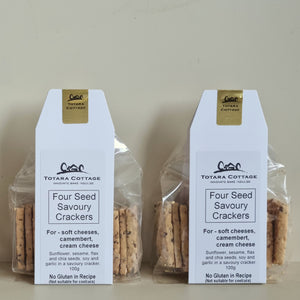 Sunflower, sesame, flax and chia seeds in a shortbread style of biscuit.  Flavours of soy and garlic with an added bonus of being gluten free.  Fabulous with soft cheeses such as camembert, brie and cream cheese.  A great addition to any cheeseboard. 
Totara Cottage is a boutique wholesale producer of specialty baking.  Since 1996 they have built a reputation for top quality, home made, innovative baking. Totara Cottage takes pride in it's baking, just like your mother would. All of their range is hand made in small batches for true home made flavour and attention to detail.
Totara Cottage is proudly located in Greenhithe, Auckland.