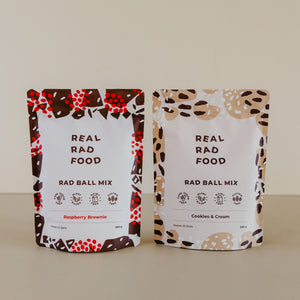 Rad Ball Mixes are the easiest (and tastiest) way to have a healthy treat at home. Filled with plant based, gluten free, cane sugar free & dairy free ingredients, these balls are perfect for gifting!
With two fantastic flavours available, the hardest job will be picking which to enjoy! Choose between:
Raspberry Brownie - This Rad Ball combines the two greatest flavours known to (wo)man - Raspberry and chocolate. Mmm-mmm. It's just like your favourite baked treat but a healthier, easier to whip up version.
Cookies & Cream - A crowd favourite, this Rad Ball Mix is even better than it sounds. Each bite brings to mind the cookie dough you used to steal from the bowl as a kid, minus the sugar rush and scolding from mum!

Made locally in Papamoa by Hannah of Real Rad Food.