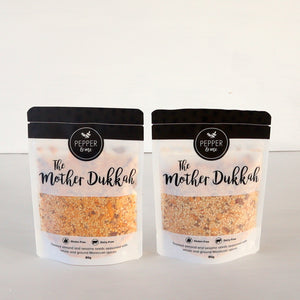 Toasted almonds have been blended with signature Pepper & Me spices, sesame and coriander seeds to design a dukkah that will definitely delight. You might be thinking that dukkah isn't your thing, but that's only because you haven't tried the mother of all dukkahs - The Mother Dukkah.
This Moroccan spiced dukkah goes amazingly well with smashed avo, or eggs, or sprinkled on your favourite dip. Saute your vegies and then toss some The Mother Dukkah through for a taste sensation.

Sprinkle The Mother Dukkah on your potato bake, lasagne or mac 'n' cheese.  This product is so versatile, delicious and fragrant. 
Proudly made by Pepper & Me, located in Tauranga NZ.